Before we imbue you with the knowledge of how to create the right Twitter hashtags, let's have a little history lesson on how the hashtag came to be. It is a little-known fact that the first hashtag, #barcamp, was made in August 2007. Chris Messina, a social tech expert, is officially credited to be the creator of the first hashtag as we know and use it today.
He asked the Twitter-verse the question; "How do you feel about using # (pound) for groups. As in #barcamp (msg)?" This went down to be the first-ever tweet that used the hashtag, and the rest was social media history. The use of the hashtag spread to all social media platforms as a means to group and cluster similar information. Messina, who grew up an active user of IRC, says that IRC was a place that used the hashtag to group information and that his concept of using the # for Twitter was heavily influenced by IRC.
Thanks to the simple, yet the pioneering idea of Messina to use the hashtag, we now have this super useful internet tool that groups and brings together all we want under one # sign.
Adding a "#" to the beginning of an unbroken word or phrase creates a Twitter hashtag.
What Do Hashtags Mean On Twitter?
To the average internet and social media user, the hashtag is a keyword that is a way to make a post more relevant and current. # + whatever it is a user is posting about makes a post more understandable. At the same time, this automatically groups the post into a hashtag group that social media users can visit. For example, a Twitter user can tweet about cactus and use the hashtags #cactus, #succulents, or #houseplant. They can also click or search these common cactus hashtags to see other users' tweets about cacti.
Hashtags are chiefly used in the same sense by brands and businesses but in a social media marketing strategy kind of way. Brands that can create hashtags on Twitter that trend create a tool that is both an introduction and a portal to their business. Trending hashtags grab the attention of a potential client and are at the same time clickable links to a page that has everything about a brand or business on whatever it is they are promoting on Twitter.
Whole campaigns and movements can be made by trending a single hashtag. The power of a trending hashtag transcends Twitter itself and sears itself into the minds of everyone who encounter it.
A single trending hashtag compels and intrigues you to learn more about it. #blacklivesmatter is all it took for the times to be aware of the campaign. Of course, the path to prominence and relevance of the Black Lives Matter campaign is way more nuanced than that, but its hashtag has played more than a huge part in how everyone today knows about it. Popular hashtags can make campaigns into memorable movements of modern history.
Why Should You Use Hashtags on Twitter?
The real question is, why shouldn't you? Using hashtags is free and its benefits are countless, considering the exposure one well-placed hashtag can get you. You are on Twitter for reasons of spreading your message anyway, so why not use a tool that can do exactly that.
If you have not used hashtags before, then it is about time you do. We know that the hashtag has a reputation as something post-millennial social media addicts use. Everything has a hashtag, as in; #ootd, #blessed, #yolo, #squadgoals, and so on, are popular hashtags that see no end of use on Twitter and in social media.
It is understandable if you feel aloof with using the hashtag if it groups you with people who are hopelessly hooked on social media. But the hashtag is a tool that has absolute value and usefulness, despite the exaggerated use of the hashtag by post-millennials. Heck, even this supposed exaggerated use can work in your favor if you know how.
Using the hashtag makes life on Twitter easier and more fruitful for you. Instead of tweeting dry without any hashtag that will only be seen by your limited following, tweet with a hashtag and open up every possibility of ultimate exposure for your message on Twitter.
Types of Hashtags: Which Ones Should You Use?
There are different types of hashtags that are best used for different situations. Learn which to use for each situation and watch your social media engagement on Twitter grow.
Here is a shortlist of hashtags and how and when to use them:
Events Hashtag
All big events have their hashtag. Events organizers invent or create hashtags to tie together all their tweets about their events. #Tokyo2020 was created for the Olympic committee's portal for everything about the 2020 Tokyo Olympics. Every Twitter user, brand, and stakeholder in the Tokyo 2020 Olympics rode piggyback on #Tokyo2020 adding to the success of the said hashtag on Twitter.
Make use of an event hashtag to drive interest and hype for your event. Using an event hashtag gives an air of importance and current relevance to your event. It makes your event seem well-prepared and put together. As an extra, all your tweets and other user accounts' tweets that use your event hashtag will all be compiled into one easily accessible, archived place.
User-Generated Hashtags
These are organic, non-brand, non-business generated niche hashtags that are made for the sake of tweeting. These hashtags are made by a single user that gains traction because of their universally relatable nature. #IheartNY is an example of a user-generated hashtag that was born out of the collective fondness of the city of New York.
Piggyback off of this hashtag for the organic traction if your campaign or brand has relevance to them to get relatability with the user-generated hashtag's user base.
Always-on Hashtags
These are hashtags that everyone knows about. The most popular hashtags that are evergreen in nature that will see use as long as Twitter is around. Examples are #ThrowbackThursday, #NoFilter, #ootd, #Photography to name a few.
Use these hashtags if they are truly relevant to your tweets.
Branded Hashtags
#CocaCola, #Adidas, #DKNY, #iMac – are a few of the biggest branded hashtags on Twitter. These well-known brands simply need to add a # to their name, and they now have a fully functioning campaign that will run itself.
For small businesses and developing brands, branded hashtags offer a means to create brand identity, make campaigns, create publicity, and also sell products.
Unbranded Hashtags
These hashtags are like a marketing campaign that promotes a brand without specifically mentioning a brand name. Examples of these hashtags are Nike's #JustDoIt, Lay's #GiveUsAFlavor, and Calvin Klein's #MyCalvins. These hashtags are about the closest things that their market associate with their brand. These can be slogans, witty puns that scream brand relevance that help brand awareness.
These unbranded hashtags are actionable hashtags used as directives to be used by Twitter users in tweeting about a brand. The #JustDoIt directive was to tweet a pic of yourself rocking anything Nike in your workout. #GiveUsAFlavor was Lay's way of asking its fans to suggest a new flavor of Lay's that the brand will produce.
Steps to Creating Your Own Hashtags
Create a UNIQUE hashtag – Create a hashtag that creates hype, sparks interest, and creates conversation in Twitter-sphere. Be sure nobody else has the same hashtag and make it ring true to your brand or campaign.
Add your hashtag to Tagalus – Tagalus is the Twitter Dictionary of hashtags. Users submit what hashtags mean on Tagalus.
Unleash your hashtag on Twitter! – Build a campaign around it and explain how to use it. Encourage people how to use it, guide your hashtag's growth through its infancy, and watch it grow into the independent creation it will become.
Use an automatic email alert that notifies you every time your hashtag is used – Twilert is one of these tools.
Dos and Don'ts of Hashtags: Essential Hashtag Tips and Good Twitter Hashtag Practices
Here is a helpful list of dos and don'ts in creating and using hashtags for your Twitter campaigns:
Do: Make your hashtags readily relatable that users may already have an inkling of what you mean upon encountering your new hashtag.
Don't: When tweeting, do not use more than 3 hashtags. Nobody respects a brand that uses 15 hashtags in a tweet. There is nothing you can't express within 3 hashtags.
Do: Keep hashtags short and sweet. Short ones are catchy, memorable, and witty.
Don't: Don't press Tweet without proofreading your tweet. A hashtag with the # left out will just look confusing and awkward. Also, you will not reap the benefits of using a hashtag as you originally intended.
It Gets Easier
As you live on with your life on Twitter as a brand, you will inevitably polish your skill and style in creating great hashtags. Just keep at it and you will be a master of creative hashtags that will capture the attention of everyone in the Twitter-verse. Strive to be the creator of the next string of amazing hashtag campaigns.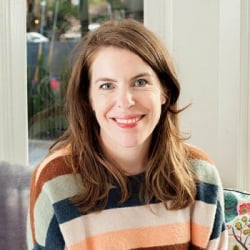 Latest posts by Maddie Schultz
(see all)