A negative comment or review can hurt your social media reputation.
Unfortunately, with more than half of the world population being on social media, negative comments are unavoidable. In particular, a platform such as Twitter is often characterized by outrage and negative tweets.
Fortunately, with the right Twitter brand management, you can turn negative comments into positive customer service.
So how do you save your Twitter brand reputation after being on the receiving end of Twitter negative feedback?
Here are seven suggestions that you can use not only on Twitter but on other types of social media.
Do Not Ignore Negative Comments
Negative reviews or comments are a golden chance that you can use to connect with your customers. Besides, you get an opportunity to correct a mistake or resolve an issue your customer may be facing.
Notably, ignoring or deleting a negative comment can hurt your brand reputation, as other customers will notice your silence. You also don't want an angry customer to feel you're ignoring their concern.
So, respond to negative comments with kindness and sincerity. Most customers understand that mistakes will happen but how you handle such issues is what makes the difference. For instance, issuing an official statement that you're looking into the issue but leaving it at that is not good enough. Be sure to actually investigate the issue and get in touch with the customer or leave another response once the problem is resolved.
Additionally, keep automated responses to a minimum when it comes to customer complaints. Communicate with the customer and personalize your responses. Showing genuine concern towards their complaint can help catch the situation before it goes viral.
Respond Quickly
You want to respond to negative reviews quickly before the situation gets out of hand. According to a recent study, 37% of customers who use social media to ask a question or lodge a complaint expect brands to respond in under 30 minutes. Unfortunately, most businesses take too long to respond to their customers' questions or complaints.
Remember, other customers are evaluating your response, and they will most likely consider how long you take to respond to complaints and negative comments before purchasing from you. To lower your response time, use social listening tools to help you keep track of negative mentions or comments related to your business. Further, have a social media damage control team to help respond promptly to negative feedback on your social platforms
Listen and Make Changes
Even if you think the customer is mistaken, or they are not giving the right facts, listen to them patiently. Even if the person becomes disrespectful, be polite, avoid arguing, and focus on the issue at hand. Remember, you're dealing with a disgruntled customer who has had a bad experience with your brand. Don't make the problem worse by arguing or being dismissive.
Additionally, fix the issue as quickly as you can. Even if it wasn't your fault that the mistake occurred, don't pass the blame on someone else. By posting a negative comment about your brand, the customer has already made it your problem. So, do what you can to fix the issue.
Also, learn from your mistakes and don't let the same mistake keep repeating itself. Once you detect an issue, make a plan on how you can fix it permanently.
Thank Followers for the Feedback
Thank your followers or customer for taking the time to bring to your attention the problem. Remember, when your customer posts negative feedback, they are giving you a chance to make a situation right, so make them know that their feedback is valuable.
Besides, some customers just want to know that you understand their frustrations. So, when you pair your response with gratitude, you'll have a happy customer who feels understood.
Do not take the negative feedback personally. If you take your customers' complaints personally, you risk getting angry and emotional. Taking negative feedback personally will also bring your spirits down, and you may not find a reason to thank your customer.
Be Patient
Be patient when responding to negative mentions. Take time to analyze your customers' comments so that you understand the emotions behind their communication. Focus on the words they have written rather than the anger behind the words.
Further, ask clarifying questions if you don't fully understand the complaint, don't assume. Ask questions, this will show your customers that you are ready to help them in solving issues. Also, getting enough information can help you solve the issue more quickly.
Further, by truly understanding how the customer feels, you'll be able to emphasize with them and hopefully turn them into a loyal customer.
Apologize if You Are Not Right
Be ready to apologize and accept responsibility, especially if a mistake has genuinely occurred. An honest apology can go a long way, so do not throw in a meaningless sorry. Be specific in your apology. For instance, if your customer has a complaint about a delay in your customer service, a specific response such as: "We are truly sorry you had a delay with our customer service today…"- is much better than just a mere apology.
Also, ensure that your apology is solution-oriented by pairing it with a promise to rectify the issue, but don't make false promises. If you can resolve the issue immediately, do so, however, if you can't, be honest and let them know when the issue will be resolved.
Clearly Explain the Cause of the Problem
Instead of making excuses after offering the apology, provide an honest explanation of what caused the problem. You can even ask your social media team to contact the person privately to offer a detailed explanation of the issue.
Notably, if there is a specific issue that needs to be addressed with the complainant, as the business owner, contact them privately. Alternatively, you can give them your contact info and encourage them to contact you directly.
Conclusion
Dealing with negative feedback is always difficult but not impossible.
Hopefully, after reading this article, you'll have an easier time dealing with irate customers. Remember, if the situation gets out of hand or if you discover you can't resolve the problem, you can always escalate the issue to a senior member of your social media team or your manager.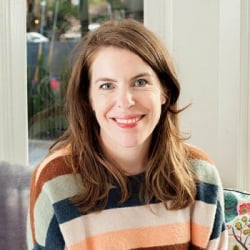 Latest posts by Maddie Schultz
(see all)