Twitter might be one of the friendliest social media platforms, but what happens when someone starts harassing you, or you notice that you have not real followers? In that case, your best bet is to learn how to remove followers on Twitter.
Limiting who sees your post takes only a few seconds; however, most people find it impossible to remove unwanted followers. In today's guide, we'll share how to do exactly that on a desktop computer and mobile device.
Why Should You Remove Twitter Followers?
While the goal of most Twitter users is to gain more followers, there are certain situations when you'll need to remove accounts from your followers list. Having fake followers is never a good idea because they can ruin your reputation, plus it's illegal. That's why finding them and taking them off the list is one of the smartest things you can do.
Another reason why you might want to remove someone is if they're posting inappropriate content or you simply disagree with the content they post. In this case, you can add them to your list of muted accounts, but if you want to prevent those users from seeing your content as well, you have to remove them from your followers list.
Next, if a person is bothering you, sending you offensive messages, you can block them and remove them from your followers. Twitter has over 330 million monthly active accounts, so the chances are you get followed by someone who won't respect your privacy or will cross lines.
How To Remove Followers On Twitter: Step-By-Step Guide
Although there is no direct way to make an account unfollow you on this platform, you can still manage who follows you using a different route. If there's someone who is a part of your followers list, but you don't want them to view your tweets, you can block the user. Blocking, then unblocking them will remove them from the list, and you can do that via desktop or mobile device. If you want to prevent new unwanted followers, you should make your account private, and each time someone wants to follow you, you'll first have to approve them. It's a great way for people who don't use their Twitter account for business and prefer to only engage with people they know.
How To Remove Followers On Twitter From Desktop:
Find the follower you want to remove on the followers page. Next to the followers name, click the three dots and click "Remove this Follower" then "Remove this Follower".
These are the steps to follow when you want to remove users from your followers list on a desktop computer:
Use your web browser to log in to your Twitter account using your username and password.
On the left-hand side, you'll see a menu; find the Profile option and click on it.
It will take you to your profile page, where you should find the Followers option. It's right under your profile picture and your short bio.
When you click on the Followers button, a list of your followers will appear. Find the one or ones you want to block.
Open their profile, then click on the three dots and find the Block option.
Select Block. Right next to the Block button, you'll also see the name of the user you want to block.
Confirm you want to block this account.
Visit their profile, and find the Blocked button. Click on it and choose Unblock.
How To Remove Followers On Twitter From Mobile:
If you want to use your mobile phone to block Twitter accounts, just follow these steps:
Open the Twitter app on your phone. Log into your Twitter profile using your username and password.
In the top left corner of the screen, you'll see your profile picture; you should tap on it.
Now you'll see a drop-down menu, where you should find the Followers button. Right next to it, you'll also notice your follower count.
This will take you to a list of all your followers. Scroll down the list to find the user profile you want to remove from your followers.
Tap on their name, and you'll open the user's account.
Once you open their profile, you'll see a button with three dots in the top right corner of the screen; tap on it.
When you see the Block button, tap on it. A new window will pop up to ask you to confirm your decision.
When you open the user's profile, you'll see a Blocked button in the top right corner of the screen. Tap on it.
A new window will pop up to ask you if you're sure you want to unblock the user. Tap Yes.
Blocking and then unblocking users will result in those users not following you anymore on this social media platform.
Conclusion
Removing followers on this platform sounds like the perfect feature for users that struggle with fake followers, are bothered by other users, etc. However, since no feature allows you to delete other users from your follower's list, you can use our guides to block them and then unblock them. This will prevent them from seeing your posts and protect you from unwanted company.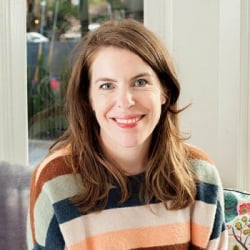 Latest posts by Maddie Schultz
(see all)