Have you ever wondered where is Twitter headquarters and what makes this place so unique? If your answer is yes, we have all the interesting facts about this social media giant.
The space is dedicated to representing the energetic spirit of the Twitter platform, a place where you can share your thoughts and ideas, but also do so much more. To fully appreciate this amazing social network, we have to dive into company headquarters.
This will motivate you to use every opportunity to grow your Twitter account and get more people to follow your content creation journey.
Where is Twitter Headquarters?
You might be surprised to hear that Twitter is located in the same place it was created. To be exact, the Twitter headquarters are in an amazing Art Deco landmark that was once used as a wholesale furniture mart in San Francisco.
The building is enormous but Twitter HQ occupies three floors, with stunning space for all the creative people working there and lots of daily light that motivates them.  
A lot of tech companies today are trying to have that community-like office space that will allow employees to enjoy their work and be productive daily. Twitter headquarters is one of the best places to work with breathtaking art on the walls, big and comfortable areas for brainstorming, and even an outdoor space for the employees.
There are famous hashtags on the walls, and Tweets that made a difference in defining this social media company. It's a great representation of what Twitter is and how you can use it to promote your content and ideas.
What Makes Twitter Headquarters Unique?
Unlike many offices in the world, Twitter's CEO made sure these headquarters are unique in every possible way. Here are a few interesting facts you should know:
The Lounge
This part of the Twitter HQ was designed with lodge and wood elements that divide the whole area into smaller places to do fun and creative things. It's a room for all Twitter employees, and it has that modern and edgy design.
Art
It's not a secret that good art will make any interior more cozy and classy, but Twitter made sure that this feature displays local artists and installations. The most popular light hashtags can be seen all around the place, motivating the employees and visitors.
This is one of the Twitter headquarters info that surprises most people.
But, Twitter is known for some of the most crucial hashtags in online communities, and you can use them to promote your content and grow your account in an organic way.
Fun
While you will not see slides in Twitter HQ like in some others in the world, you will notice that there are various entertainment and relaxing parts of the company. For example, Twitter employees can practice yoga, enjoy some activities in the game room, or even sunbathe in the open space.
Office locations and large panoramic windows all throughout the complex allow them to have a lot of sun during the day.
Cafeterias
There are three different and unique cafeterias around the Twitter headquarters that allow employees, visitors, and chefs to communicate and collaborate on the best recipes. Most ingredients used are locally sourced, and there is even a cabinet with herbs that can be used for cooking.
Final Thoughts
With over 100,000 square feet occupied by Twitter HQ, there are some amazing things that make this one of the best places to work. Market Square was not so popular when they located the offices there, but now it's one of the most popular places in San Francisco.
This behemoth of a social network represents the spirit of information and free-thinking in every office and space. It's motivational to see that millions of users have the opportunity to share their ideas and microblogs with the rest of the world.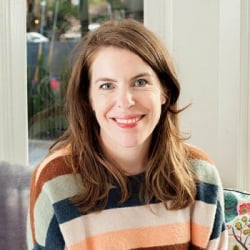 Latest posts by Maddie Schultz (see all)