Twitter has been the leading source of news on the internet. Most of its 206 million active daily users go on the social media platform to get the latest happenings around the world. That is why the biggest brands are also present on the platform. They are taking advantage of this free advertising space online. And so can you.
One of the most-used methods of getting engagements on Twitter is by creating a Tweet thread. Now, you might ask, what is a thread on Twitter?
No, worries. We will discuss what threads are, how to create a thread on Twitter, and how you can even use them to your advantage.
What is a thread on Twitter?
A Twitter thread is made up of numerous Tweets that are linked together to form a long post. The connected Tweets form a coherent thought.
A thread can be identified by the vertical line on the left that connects the series of Tweets and at the bottom, there is a Show this thread clickable link.
To view a thread, you may either click the original Tweet or click the Show this thread link to reveal the entire Tweet thread.
Why make a Twitter thread?
People can post Tweets on Twitter every minute. So, why the need to make a thread? Here are some of the reasons why it's more beneficial to make a thread rather than just spam posting Tweets all day.
Make longer posts
As we are all familiar with, a Tweet is only limited to 280 characters. By creating a series of Tweets to form a thread, you can push the boundaries of the character count limit the platform has made.
You can also be certain that your long post will be read in its entirety and in the correct order; unlike if it was posted as individual Tweets.
Open up a conversation
Making posts is all about reaching out to your target audience. By making a long post, you are talking to them, bringing up a lot of ideas that Twitter users can mull over. Each point can open up a conversation, and you will be able to interact with them on each specific topic or idea.
When you make this connection with your audience, they will form an affinity with you and your brand.
When you create a thread, each segment still acts as a regular Tweet on which Twitter users can like, reply, or retweet. Having more Tweets in one thread means more chances of getting these engagements, instead of just posting a single Tweet.
The more engagements you have, the higher your chances are of making money off of Twitter.
How to make a thread on Twitter?
Creating a Tweet thread is very easy. You may use your desktop to access the site or, more conveniently, use your phone with the mobile app.
How to make a thread on twitter using your desktop:
Open a web browser and log in to your Twitter account.
On the left-hand side menu, click the Tweet button to start your thread.
Type in your text in the compose window. Once your text goes past Twitter's 280-character limit, the excess characters will be highlighted. When this happens, simply click or tap the plus icon to add a new thread.
A new thread will be added below your previous text. You can type in again a text with a maximum of 280 characters. You may add another thread until you have said everything you wanted.
When you are done typing, hit the Tweet all button to have the entire Twitter thread posted on your profile.
After posting the thread, you may still create additional Tweets by clicking the Add another Tweet button at the bottom of your thread.
How to make a thread on twitter using the Twitter app:
Open the mobile app on your device and log in. If you do not have the app yet, you can download it for free on Android, iOS, or Windows phones.
From the Twitter Home feed, tap the Compose icon (the one that looks like a quill pen with a plus icon) in the lower-right corner of the screen.
Enter your text, and press the plus icon to create a new Tweet on the thread.
Tap the Tweet all in the top-right corner when you are done.
To follow up on a thread, you may tap your profile icon in the upper-left corner to go to your profile page. Look for the post and tap Show this thread.
Tap the Add another Tweet button at the bottom to include your new text in the thread or conversation.
You cannot edit any part of the text after posting; there is no Edit button anywhere. So, it is wise to always double-check and proofread your entries before hitting the Tweet all button.
If you want to remove any part of the thread, you may click the three dots (More icon) in the upper right of the exact Tweet you want to remove, and then simply choose Delete or Delete Tweet from the menu.
Some helpful tips for writing great Twitter threads
Be coherent when composing a long thread. Make sure that your sentence flow is easy to follow and the train of thought is in good order.
Create threads that are interesting and conversation-worthy. Don't focus on niche topics. Try to post about bigger topics to reel in a wider audience and gain more followers.
To get ideas on what topic to post a thread about, try using the advanced search settings. Look at what topics are trending at the moment. Check out what the Twitter profiles of the most-followed personalities are Tweeting about.
Add photos, videos, GIFs, or emojis to make your Tweet look eye-catching and give the entire thread a mood that people will immediately understand once they see it.
A final piece of advice
Since you have learned how to make a thread on Twitter in this quick guide, please post responsibly. Fake news and wrong information go about freely on the internet. Do not be a party to that. Do your research before Tweeting.
Now, with all this know-how, go forth and use Twitter to your advantage.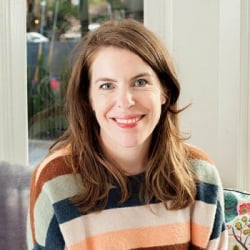 Latest posts by Maddie Schultz
(see all)