Elon Musk, Twitter's new CEO, is making an overhaul on the platform. In line with this, the legacy verification program was discontinued last April of 2023. This means that those with a legacy blue checkmark will only retain it if they meet the new criteria set by the platform and also subscribe to Twitter Blue.
If you still haven't claimed your blue tick, then this is your chance to get verified now. This article will teach you how to get verified on Twitter so you can get that blue checkmark or retain your legacy blue badge.
What Does Twitter Verification Mean?
Twitter verification is a system meant to authenticate the identity of prominent profiles. This is to ensure the integrity of the platform. It certifies the real accounts owned by influencers. The system prevents random people from claiming accounts named after celebrities and public figures. Fake accounts could spread false information and even cause defamation of the named celebrity.
With this security in place, accounts with a verification status symbolized by the blue checks on their profile gain credibility. The blue badge is solid proof that you are who you say you are and not an impostor. Users rest assured that those profiles are owned by those named there.
These are some benefits of being verified on Twitter:
Your account is official and credible.
You will gain followers' trust.
You can avoid identity theft.

Who Can Get Twitter Verification?
All public figures, news outlets, and influential individuals are urged to get blue checkmarks on their Twitter profiles. This badge is proof that the Twitter account is legitimately owned by the person or entity whose name is displayed on it.
If you're unsure whether you can get verified, check out the following list. Your account must fall under these categories to qualify for verification:
Government
Companies, brands, and organizations
News organizations and journalists
Entertainment
Sports and gaming
Activists, organizers, and other influential individuals
Necessary Criteria for Twitter Verification
Due to criticisms over the previous verification system, Twitter has now revamped its verification process and requirements. This is to ensure fairness and real authenticity of the account. These are the new requirements:
You must have an active Twitter Blue subscription.
Your account has a profile photo and display name.
Your account should be more than 30 days old upon subscription and have a confirmed phone number linked to it.
Your account should be active for the last 30 days.
You should not make any changes to your display name, profile photo, and Twitter username (@handle).
Your account should not be misleading or impersonating an existing person.
Your account must not engage in manipulation and spam on the platform.
The major criterion added to this new verification process is that you have to be an active subscriber to Twitter Blue. This is a subscription service on the platform that provides verification and other premium features such as Tweet editing, text formatting, and the ability to post longer than 280 characters per Tweet, to name a few. If you have passed all these criteria, you can start the steps to get verified. The process is a bit time-consuming, but the trade-off is well worth it.
Steps to Get Verified on Twitter
If you already have an existing Twitter account that is older than 60 days, then you may immediately begin this process. However, if your account is new, wait for at least 60 days from its creation before following these steps to avoid further delays.
Complete Your Twitter Profile
Use your complete name or alias (the name you are popularly known as) in your Twitter profile name. Then choose your username (@handle), preferably your name, so it's easier to remember and tag. After that, upload a display photo and profile banner that shows your face and/or your brand logo.
These elements confirm to the public that this profile belongs to you. Refrain from changing any of these. Otherwise, your profile will be subject to another verification process to retain your blue checkmark. If applicable, add in your bio the link to your external website for more authenticity.
Be Active for at Least 30 Days
As an influential figure applying for the blue badge, you are required to be active on the platform on a daily basis. You should post Tweets, like and retweet content, comment on posts, etc. Do this for at least 30 days.
Subscribe to Twitter Blue
Only active accounts for at least 30 days can subscribe to Twitter Blue. So, you definitely cannot take shortcuts. To start your subscription, choose "Twitter Blue" on the left column for the web version or under your profile in the mobile app. Choose the yearly or monthly subscription and press the button to continue the process. You will also need to confirm your phone number as proof that you are a real person.
If you are eligible, you will be able to subscribe without a hitch. If not, a message will pop up stating the reason(s) for your ineligibility. Just try again after 30 days once you have addressed your shortcomings. For organizations, you can apply for verification on this page.
Be Active and Follow the Rules While You Wait
Once you are subscribed to Twitter Blue, your profile will undergo a review process. The Twitter team will verify the identity and authenticity of your account. And if your account meets all the criteria, then you will be awarded the blue checkmark.
There is no set timeframe for the verification process. It could take days or weeks. You simply have to wait until the review is done. During this time, be sure to follow Twitter's Terms of Service. Refrain from any form of platform manipulation or spam. Also, keep your profile active to let them know you're serious. When it is finished, the blue checkmark will appear next to your name. You can now proclaim that your profile is a real or official account.
Other Tips to Get the Blue Checkmark on Twitter
For a faster review process, it's better to wait until your account is over 90 days old. Be consistently active as you wait for this period to elapse.
Do not make changes to your profile. During the review period, no changes are allowed to your account's display name, profile image, and username (@handle). Altering any of these may prolong the verification process.
Twitter has the power to remove the checkmark from an account without notice. Be sure to meet all the requirements and follow the rules of the platform to avoid losing your verification badge.
In Summary
The Twitter blue checkmark is a sign of authenticity. It is awarded by the platform only to the real owner(s) named on the profile. This safeguards the integrity and credibility of the platform and its users. There are tons of benefits to having the blue tick on your profile. If you still don't have it, then it's time you get to work earning it.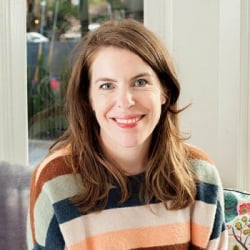 Latest posts by Maddie Schultz
(see all)