Twitter is the place where over 2.85 billion people get up to date with the news and current events. The platform wants to improve Twitter users' experience. To work around the limitations imposed by the 280-maximum character limit, Twitter created Twitter Spaces.
"What is Spaces?", you might ask. Just read on, and we'll give you a rundown of what it is and how to use it.
What Is Twitter Spaces?
Twitter Spaces is a live audio chat within a room called a Space. The host is the creator of the Space. As host, you can invite 2 Co-hosts and 10 other Speakers to lead the conversation in the Space.
Listeners can send emoji reactions and only speak when given the mic.
Who Can Start a Space on Twitter?
A Twitter account with at least 600 followers can start a Space.
The only limitation right now is that you can only create a Space using an iOS or Android device.
Users who go on the Twitter website using a computer cannot create a Space. They can still, however, join a Space and be a Listener.
To start Ticketed Spaces, you will have to apply first and wait for Twitter to approve your request.
Benefits of Using Twitter Spaces
As the host, you can easily manage who can speak and who will be muted or kicked from the Space.
You can have 2 Co-hosts to help you manage the speakers and listeners.
You can pin Tweets to the Space and turn on the live captions so that listeners can follow along with the conversation, even those that have just joined in.
There are sound effects and a voice transformer to make the conversations more fun.
There is a raise-hand emoji that stays visible until it is lowered or the user has been unmuted to keep the conversation going without interruptions.
Ticketed Spaces offer content creators the chance to monetize their efforts.
How to Create Twitter Spaces?
Easily create Spaces using the Twitter mobile app. Here's how:
● iPhone
On the Home timeline, long-press the compose icon (feather pen). From the icon menu that pops up, select the Spaces icon (circles forming a diamond shape).
● Android
Alternately, you may tap your profile picture on the upper left corner of the screen.
Search for the Spaces option.
Once you have tapped Spaces, a pop-up will open titled Your Space.
You can now enter a name for your Space. Then select up to 3 topics of your choice. These tags will help your Space be visible in searches related to those topics
Then select whether to Start your Space / Start now, which will immediately create and start the event; or Schedule for later, which will give you the option to set a date and time in the future.
For events that require an entrance fee to join, called Ticketed Spaces, you may press the Add tickets button. Select your desired maximum number of tickets to be sold and the price for each ticket. And then hit Done.
You may then post the Space link in a Tweet or share it on other social media platforms to let people know about your event.
How to Find Spaces to Join?
Spaces are currently all public, so anyone with access to the event link can join a Space. For Ticketed Spaces, the ticket prices are already indicated. Simply purchase a ticket to enter the Space.
Since Twitter Spaces are meant for public or private conversations, there are multiple ways to find Spaces and join in. Here's how:
People you follow on Twitter who are hosting a Space will have a purple bubble at the top of your timeline as long as the Space is live. Just click the purple bubble to join in.
People you follow on Twitter who are currently listening to a Space will appear at the top of your Timeline. Click the purple bubble to enter the Space and listen in as well.
You may find Tweets in a purple box with Spaces links on your timeline. Simply click on the link to enter the Space or sign up for a future event.
You may also get an invite link in your DM (direct message) inbox if the host sends you an invitation.
Spaces links can also be shared on other social networks as part of a public launch. You may check popular sites like Facebook and Instagram for posts from people you are interested in.
Once you get the link to an event, sign up to get a reminder notification. When the scheduled Space is up and running, all the guests who signed up will receive push notifications from the Twitter app. You may then enter and join the Space session.
How to Invite Other Twitter Users to Your Space?
A Space has a capacity for 1 Host, 2 Co-hosts, and 10 other Speakers. When hosting a Space, you may invite up to 2 Co-hosts to help you. Send them an invite to the Space in advance, so they can schedule it ahead on their calendar.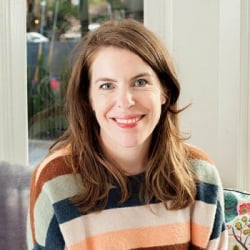 Latest posts by Maddie Schultz (see all)