Building your business empire online, planning quality content, posting regularly, and keeping up with trends can be tiresome. That's why social networks allow you to link them so that you can share the same content in various places at the same time. So if you want to know how to connect Twitter to Facebook, you've come to the right spot.
Can You Post Tweets To Facebook Automatically?
Posting your Tweets to Facebook automatically isn't an option anymore. Recently Twitter announced that due to Facebook updates, you cannot post Tweets to Facebook automatically. Instead, you need to copy the Tweet URL and paste it on Facebook. For some reason, some users can still enjoy the feature, but not everyone is that lucky.
Although this platform option doesn't work for everyone, there is still a way to link the two mega-popular platforms and cut your work in half. Sharing a Tweet or a Facebook post on various networks is essential for your business's online presence. Every company's social media marketing strategy involves hitting target audiences on multiple platforms, since not everyone uses the same one.
Below we'll explain how you can sync the two platforms from Twitter itself, from Facebook, and link Facebook pages and groups to Twitter. If the first option doesn't work for you, try the second one.
How to Link Twitter to Facebook: Step-By-Step Guide
Before learning how to connect Twitter to a Facebook account, you have to ensure that you have profiles on both social media networks. If you don't, you have to create a Twitter and Facebook profile, then start following these basic steps to link the two:
How To Link Twitter To Facebook
Start by signing in to your Twitter profile. Enter your email address, password, then click on the blue button that says Log In. You can use the desktop browser version or the Twitter app.
Next, click on your profile picture in the right top corner. A drop-down menu will appear. If you're logged in through the app, you'll need to tap on your profile picture at the bottom, then on the three-dot button.
Find the Settings and Privacy option, and click on it. This is where you can choose your preferred settings and synchronize the two accounts.
Scroll down to find the Apps option and click on it. Once you do, you'll see a range of options, one of which will be Facebook.
Click on the Connect to Facebook access button. If you're not logged into your Facebook profile, Twitter will ask you to log in.
A new window will pop up, where you need to enter your credentials, then click the Log In button.
Another window will appear, letting you know which information the social media platform will use. Once you read the announcement, click Continue as Your Name.
Now you'll need to adjust your privacy setting and give Facebook access to your Twitter pieces of content.
Click OK, and you're ready to go!
How To Link Facebook To Twitter
Now that you got the hang of connecting Twitter to Facebook through Twitter, you should know that you can also link the two social media accounts from Facebook. This means that it will be much easier to share each Facebook post to Twitter without copying it and doing things manually. Some of your followers are only present on Twitter, or they rarely scroll through their Facebook news feeds, so it's your job to bring your content everywhere. Here's how to sync the two personal profiles via Facebook:
Open your preferred browser and type in www.facebook.com/twitter.
Find the Link to Twitter button, and click on it.
Click Authorize app.
You'll see a list of things with boxes next to them. This is where you can choose your profile settings and decide what you want to allow Facebook to post to Twitter.
Click Save Changes.
Connect Twitter to Facebook Page/Group
Did you know that you can synchronize Twitter with Facebook groups and pages? This feature will make it even easier for you to interact with your intended audience through your business page or your group members. This is what you should do:
Log into your Facebook account, and go to www.facebook.com/twitter.
You'll see a list of groups and pages you can link. You must be a manager of these pages and groups; otherwise, you won't be able to sync them with Twitter.
Next to each group/page, there will be a Link To Twitter button. Click it for the groups/pages that you want to link.
A new window will pop up asking you to log into Twitter. When you do, you need to confirm that you want to link the group/page by clicking the Allow button.
Once you do, you'll be back on Facebook. Choose which things you want to share on Twitter.
Click Save Changes.
Conclusion
How to connect Twitter to Facebook? There are two routes you can take! The first one is to try linking from Twitter itself, and if that doesn't work, you should try from Facebook. Being able to share the same Tweets and posts on both platforms can be so helpful for busy creators and business owners. Social media became a part of our lives because of all the information we can get through various networks. Using platforms, especially Twitter and Facebook, as free marketing tools to grow your business is another reason why your online presence is so essential. Instead of sharing content manually, you can work smart, link these two networks, and cut your working time in half while also hitting all the right targets.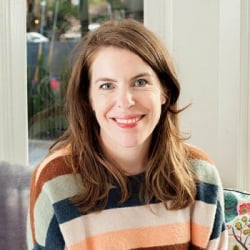 Latest posts by Maddie Schultz
(see all)