Twitter provides the best microblogging content of 280 characters at a time. But your Twitter feed can be pretty boring if you are not following the best Twitter accounts. You may be following accounts on Twitter that keep you in the know about the latest news, your hobbies, favorite celebrities, and the weather, we're going to tell you that there is more to just that with life on Twitter.
Twitter is a place to go for a good laugh, a much-needed break from harsh everyday life, or good old wholesome entertainment.
If you have been on Twitter for quite some time but you now realize that your Twitter feed could be more interesting, do not fret. These lists of the best Twitter accounts to follow will make sure you have a much more satisfying time on the Twitter social network. From the biggest Twitter accounts that have millions of followers to more obscure but equally interesting content, we have collated the accounts that will make Twitter exciting.     
And when you're finished, take a look at our other list you might be interested in:
Follow These Twitter Accounts for a Laughing Good Time
1. Conan O'Brien, @ConanOBrien
– The veteran funny man and late-night show host always has the most naturally hilarious tweets. All, and we mean ALL his tweets are comedy gold. Following Conan O'Brien on Twitter feels like having private access to a free-flowing bar of his thoughts.
Conan sounds like he just tweets whatever is on his mind. Don't ever change, Connan.
2. Weird Al Yankovic, @alyancovic
– "You know… The weird one", quips his Twitter bio and you know you're in for a good time. If you are a fan of his silly but awesome song parodies, Weird Al's Twitter account has lots of videos and references to those.
Following his Twitter will also give you a glimpse of a more private part of his life. He seems to love his family, and his account has some heartwarming tweets about the loves of his life. If a funny, warm, and fuzzy account is your cup of tea, then you most definitely follow Weird Al Yankovic.
3. Funny or Die, @funnyordie
– The funny or die page looks more like 9gag than a Twitter account because of the number of memes that they tweet and we like that. They also toss in some original internet-only comedy sketches like the "How to Be a Jerk with Brie Summers by comedienne Amanda Cerny" and you have a Twitter account that will be a sure recipe for the LOLs whenever you demand it.
4. Funny Tweets, @JokesMemesFacts
– Whoever knew life lessons and one-lines make a good match? This Twitter account is all about learning some life lessons and having a good laugh. Something that could be useful in coping with life's ups and downs.
Check these here tweets by Funny Tweets and maybe you'll catch our drift: "I didn't fall. The floor just needed a hug". Nice save, huh? And "For every minute that you are angry, you lose 60 seconds of your happiness". Come to think of it, that is quite true and quite funny. Maybe not taking life too seriously and laughing at your problems is the secret to living life. Who knows? Go check them out yourself.
5. God, @TheTweetOfGod
– If you don't mind a little satirical comedy, then "God" tweeting about a lot of things like he was an ordinary Twitter user will be your cup of tea.
"Be careful what you wish for: you just might get it. Kidding! You won't get it," God says in one of his tweets. How is that not funny???
Follow these Twitter Accounts if You Need a Break From Reality
1. Everythingsaface, @facesinthings
– Do you notice that there are faces in a lot of things around you in everyday life? Well, there is a Twitter account dedicated to posting pictures of exactly that. If you like us, finding faces in things is a little makes you feel warm and giddy inside.
2. Endless screaming, @infinite_screaming
– Treat this account like how you would view an art installation. The account has 414 thousand tweets of yes, you guessed it – infinite screaming of iterations of "AAAAAHHH". It's nice how the fascination from something odd can bring your soul some much-needed calm.
3. Wholesome memes, @WholesomeMeme
– We believe more wholesomeness is what this planet needs. Keep yourself anchored to goodness with more wholesome things on your feed. Feel immediately better and come back to reality a little stronger and kinder.
4. Thoughts of Dog, @dog_feelings
– This account makes it feel like a real dog has been tweeting all those adorable canine thoughts. Feel all your stress drop from your shoulders with tweets like "goooood morning. it is an excellent day. to accomplish some goals. I do not have any. but you go ahead". Isn't that cute?
5. If… Then Well, @IfThenWell
– Refreshes the work ethic that your day job diminishes back into the proud beacon of grace it naturally is. This account reminds you that if there's something worth doing, then it deserves to be done well.
Follow these Twitter Accounts for Learning
1. Fact Reviewer, @FactReviewer
– For the fact junkie in you. This account is a dynamic archive of the most interesting facts that you never knew. Increase your trivia archive for trivia game night or learn new facts just for the heck of it.
2. Willy Shakes, @IAM_Shakespeare
– This account aims to tweet all of William Shakespeare's work one line at a time! A very noble goal in an information-drunk but knowledge-starved world. This account has already tweeted all of Shakespeare's works several times over.
3. Merriam-Webster, @MerriamWebster
– Make your feed a little smarter with their 'Word of the Day posts, word facts, and other word discussions to improve your language skills. Having a good vocabulary is a reward and is doubly valuable if you work in the literary world.
4. NASA, @NASA
– Get the latest about all things outer space. As NASA says, "There's space for everybody". Following NASA will give you a picture of how much work our spacemen, spacewomen, and scientists put in every day to find answers about the great frontier that is the cosmos.
5. Letters of Note, @LEttersOfNote
– Is a collection of correspondence of important figures throughout history. The letters that key figures shared reveal their private conversations and give us insight into how their minds worked and shaped our world.
One of the best gems in this collection would be "The world is divided into people who do things and people who get the credit. Try, if you can, to belong to the first class. There's far less competition".
Follow these Twitter Accounts for Random Entertainment
1. Elon Musk, @elonmusk
– Getting to know more about the heralded real Ironman is entertaining. You would think a billionaire entrepreneur visionary would all about serious business but you'd be surprised how many memes he pumps out from his Twitter. And original ones, at that! Elon tweets the updates about his latest successes in SpaceX but he'd do so in a very relatable and ordinary person kind of way.
2. Barack Obama, @BarackObama
– Probably the most charismatic political figure to be on social media, Obama's Twitter will tell you all about what the ex-POTUS is up to these days – a very entertaining activity especially recent political leadership, has left us much to desire.
3. Distractify, @Distractify
– Current events that are not necessarily informative but entertaining. Distractify is made up of the stuff you and your friends talk about.
4. The Times Is On It, @NYTOnIt
– A parody of the New York Times, this account jabs fun at the importance of The New York Times newspaper. NYTOnIt retweets posts by the New York Times that aren't exactly New York Times standard and we think that's uniquely entertaining.
5. Mental Floss, @MentalFloss
– Edutainment at its finest, they say. Mental Floss deems itself "an intelligent read, but not too intelligent". Random curious things that keep the thinking class entertained.
Follow these Twitter Accounts for Great Visuals
1. Nat Geo Photography, @NatGeoPhotos
– Who else can deliver immaculate photos but Nat Geo? If you enjoy looking at breathtaking photographic works of art every day, this account should be number one on your list.
2. SciFiArt, @retroscifiart
– They don't make things the way they used to apply to this account. Get to enjoy retro science fiction art by Moebius, Cortman, and other artists who fathered the genre. More senior appreciators will love the nostalgia and the newer audience will see where the sci-fi art aesthetic began.
3. Superani (Kim Jung Gi), @SuperaniArt
– Kim Jung Gi is a Korean illustrator, cartoonist, and animator who just seems to be drawing something 24/7. This prolific artist is best known for his ability to draw detailed scenes directly from his imagination. His twitter also features works from his Seoul-based studio's contemporary art.
4. #WOMENSART, @womensart1
– A curation of art by celebrated and lesser-known women artists throughout history, this account reminds you that art has favored no gender.
5. SI Vault, @si_vault
– Sports Illustrated has this other Twitter that is a vault of photos of the greatest sports moments in history.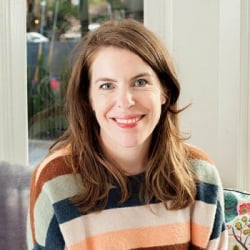 Latest posts by Maddie Schultz
(see all)