Founded in 2006 by several industrious start-up entrepreneurs, Twitter has grown to be one of the most popular social media platforms today.
Users go online and log in to their Twitter account several times each day to get updates on what's happening in the world. In 280 characters or fewer, tweets posted by users and companies are able to inform others about the latest news and trends.
People prefer using Twitter as their daily source of information over older forms of media. The compact presentation on Twitter makes it more efficient than spending an hour in front of the ads-filled TV just to get the valuable content that you need to know.
Individuals also get the chance for their opinions to be heard by the world. With just a post of a tweet, anyone can influence and make a difference.
And all of this convenience and influence is offered by Twitter for free to everyone around the globe. So, it certainly begs the question of how Twitter makes money when people don't have to pay for it?
And when you're finished, take a look at our other Twitter guides:
How Does Twitter Make Money?
A company usually generates income selling a product. But Twitter offers their main product free for use to anyone who creates an account on their platform.
So, how exactly does Twitter profit from all of this?
In Twitter's Fiscal Year 2020 annual report, we take a look at what the company does to gain revenue.
They revealed that their company has two main sources of income: advertising services and data licensing. These are the reasons they can afford to offer the use of their services for free.
Let's take a closer look at these two money-making strategies that Twitter employs.
Advertising services
Twitter's main source of income is made through the advertising services they provide on the platform. It constitutes 86% of Twitter revenue in 2020. This amounts to $3.2 billion in income for the year.
How does this work?
Twitter gets paid by selling promoted products. These products are seen throughout the platform in the form of video advertisements, promoted tweets, promoted accounts, and promoted trends.
Since Twitter offers the use of their platform for free, this attracts millions of people to use it. Then the audience of millions is what they capitalize on for selling these promoted products.
Twitter can guarantee brands a definite number of audience reach for a certain amount of money. The millions of Twitter users are what entices brands to advertise on Twitter.
In the last quarter of 2020, Twitter has reported about 192 million monetizable daily active users (mDAU) around the world. This mDAU is different from their monthly daily users, which have reached over 330 million in number since the last the company has reported.
Monetizable users are the people who access their Twitter account and are able to see advertisements on their feed. This is the main source of income for the company since Twitter gets paid for each individual user reached by these promoted products.
People might think that the trending hashtags and topics on Twitter are all organic. But brands can actually pay their way to be on the trending list.
Data licensing
Another source of Twitter revenue comes from data licensing and others. This comprises 14% of their net income, which amounts to $509 million.
How does this work?
Data licensing is a fancy term for selling people's public information. These are data that they have gathered from Twitter users.
This is considered legal since the data are provided by the users of their own accord and are available to be seen in public. Twitter just compiles them for easier use of their clients.
Twitter then sells regular subscriptions to companies. This subscription provides the companies access to public data that is up-to-date.
In Conclusion
Twitter has made a setup that is beneficial for all of its users, clients, and the company itself. Their advertising services and data licensing are both legitimate and non-intrusive revenue models.
The promoted products that appear on people's newsfeeds do not detract from the excellent user experience Twitter already provides.
And the data that Twitter sells to client companies are all publicly accessible. Users cannot really accuse them of stealing their information.
Twitter now has over 211 million monetizable daily active users in the third quarter of 2021. As the pandemic starts to ease, the company is positive that the numbers will continue to increase and their revenue to follow suit.If you want to learn how to capitalize on this upward trend, read this article to help you on your way to success: Guide to Using Twitter for Business in 2021.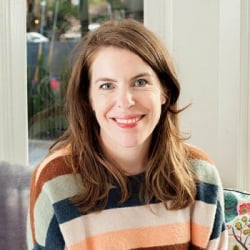 Latest posts by Maddie Schultz
(see all)