How to upload GIFs to Twitter, and why are they so popular? These short animated tools can be of excellent help if you're trying to grow your brand. In this article, you'll find out why they're great for Twitter, how to create your own and how to upload them.
And when you're finished, take a look at our other Twitter guides:
Why It's Great To Use GIFs On Twitter
Tweeting a GIF on Twitter has so many benefits you haven't even considered. Aside from your regular content, text, images, and videos, you should prioritize GIFs. When people scroll through their Twitter feed, they always need something to catch their attention. These fun visuals are a great way to capture the viewers and get them to engage with your brand. 
First of all, an animated GIF file is fun to look at! There is no doubt that GIFs are much more interesting than image files because they have more to offer. You can easily tell a story by including a series of images in a single Tweet, adding a video, and trimming it into a cool GIF. These animations can tell your followers exactly how you feel and what you want to convey. They're a much better way to enrich your message than emojis or sometimes even words.
Another great thing about GIFs is that they're funny and make people laugh. The whole point of these animations is to make someone's day better; that's why the audience has such an excellent response. Showing your business through GIFs will make your customers more interested in your products and services, resulting in higher sales.
How To Make A GIF For Your Twitter Account
Creating GIFs is so simple! Turning a static image into a short, engaging video, or cropping video files into short, funny clips can be so beneficial for your Twitter profile. Instead of using other people's GIFs and choosing from the Twitter library, you can make your own and turn it into a recognizable feature of your business.
One of the easiest ways to create a GIF is via GIPHY. This site offers you so many options, and it's very straightforward to use. You can upload multiple photos and turn them into a GIF, or use videos and crop them for an interesting final result. One of the best things about this site is that you can share the GIFs straight to Twitter without downloading them first, then upload them to the platform. You'll see a share button next to the GIF that you need to tap on. Choose Twitter from the options, and you're ready to go.
If you want to use Twitter directly to create GIFs, the procedure is very simple. All you need is a live photo from your phone that you'll upload and turn into a GIF. After uploading the photo, you'll see the GIF option in the bottom left corner, check it and upload the picture.
Tips For Creating Custom GIFs For Your Brand On Twitter
Use GIFs To Promote Products
Each time you have a new product release, you can promote it with GIFs. Of course, this shouldn't be your only marketing tool, but it's innovative and cool.
How-To Guides
Use these animations to show your audience how to use your product or services. It's so simple but fun and effective.
Thank Your Audience
GIFs are the best way to say thanks. For example, you can thank your community for the constant support, thank new followers, or thank them for buying your products.
How To Upload Your Own GIFs To Twitter
How to upload GIFs to Twitter? After creating your custom GIFs, you can upload them to your Twitter account and share them as a part of your content. Attaching them to Tweets has never been easier. Use the GIF Button in the Twitter compose box:
Click on the What's Happening box where you usually write your Tweets.
Choose the Tweet button.
If you click on the GIF button, you can select one of the GIFs that are already available in the gallery. All you have to do is enter the keywords in the search bar. When you want to upload your GIF, click on the gallery button and upload the animation.
Finish your Tweet, and tap Tweet to post it.
What Twitter GIF Size Is Acceptable?
In order to create successful and engaging GIFs for Twitter, you should know the preferred specs that the platform suggests. The file formats Twitter accepts are JPEG, GIF, and PNG files. If you try uploading other file types, you might not be able to see your GIF. The size you should stick to is up to 5 MB if you upload the GIFs from your phone and up to 15 MB when using your computer.
Conclusion
Instead of grabbing screen recordings to create fun short clips for Twitter, you can now make your own Twitter GIF and use it to make your brand more recognizable. Although GIFs aren't the first thing in mind for most marketers and business owners, they are a powerful tool to increase your engagement. You can create your branded GIFs to promote your products, thank the audience, create how-to guides, behind-the-scenes content, and much more.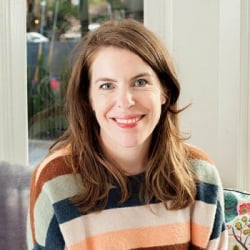 Latest posts by Maddie Schultz
(see all)