Are you looking for the best way to become a social media guru and find yourself lost in the sea of information? Don't worry, we have the solution for you.
Becoming and staying popular on massive social media platforms like Twitter is not easy, luckily, there are a few things you can do to make your Twitter profile stand out. One of those things is your Twitter bio.
This short description of your profile can make the world of difference for your Twitter growth, so make sure to pay attention to the details mentioned below and take notes to further improve your Twitter bio.
And when you're finished, take a look at our other YouTube guides:
What Is a Twitter Bio?
Twitter bio is part of your Twitter profile, showing your business or personality in a few clever sentences. Considering that Twitter is all about words and opinions, this part of your account is extremely important.
Your followers and potential fans will see the description and decide if you have something interesting and engaging to offer. This is why a perfect Twitter bio can get you more followers and increase your influence on the platform.
But making one professional Twitter bio is not as easy as it might sound because there is a character limit you can use to put in all the vital information. So, if you want to make the best bio for your profile to stand out, keep on reading.
How to Write a Good Twitter Bio?
There are many ways to get creative with a Twitter bio, even if you only have 160 characters to say it all. In addition, there is a Twitter bio template online so that you can maximize the effect of that text or at least get a better idea of your content.
Here are a couple of great tips for creating the best Twitter bio:
Introduction
A proper Twitter bio needs to start as an introduction. Although the whole concept of this text is to allow your visitors and followers to get a better picture of you, the beginning should be all about introducing your business or personal profile.
Use all the characters
Bio character limit can be quite demanding when you think about all the things you need to say and limited ways to say it. This is the time to make a creative Twitter bio and even use all the characters to promote your account.
A recent study has shown that more characters in the bio equal more followers. So, while some big and famous companies can use just one word in their bio, the rest of us have to use up all the space given.
Practice SEO and keywords
Amazing Twitter bios can be found using search engines, so you need to optimize your keywords and learn everything about SEO. This way you can promote your business and ideas to a wider audience who are maybe using Google to search for the products and services you offer.
Show off your personality
Twitter attracts all kinds of people and with billions of active users, you need to stand out and show your personality. This can mean using your sense of humor, even if you are trying to make a business profile.
As long as the Twitter bio is showing the best parts of your offer, you are good to go.
Humblebrag
If you want to have one of those amazing Twitter bios, you need to master the fine art of bragging while being humble. This might sound easier than it is, but if you keep on reading, you will find a few ideas below that can inspire your imagination.
Links and CTA
Twitter bios can also be a great social media marketing tool if you manage to add links and call to action with limited characters. This is an important step that will help you combine your social accounts and grow your Twitter organically.
Add hashtags and emojis
Cool Twitter bios always have subtle emojis and hashtags, but make sure you are using the right ones for your business and ideas. When choosing the right emoji or hashtag, keep in mind that you are building a brand and everything needs to work together for the best results.
Twitter Bio Ideas to Inspire Your Own
Twitter is home to many celebrities, companies, and people who love to follow them. So, if you want to take a closer look at some of the best ideas, here are a few examples:
"Comedian, talk show host, and ice road trucker. My tweets are real, and they're spectacular.
@ellentube @theellenfund"
Elen is one of the most successful hosts, and she is using her fine skills to bragging and promoting her talk show while being funny and catchy.
"If you're looking for hot takes and cold Pepsi, you've come to the right place."
Famous companies like Pepsi can make short and bold statements and still look like amazing business accounts. The creative part is very important for all bios on Twitter.
"I put that $#!t on everything. Including Twitter. 🔥"
This bio is the perfect example of how text can be quite short and to the point, as long as it's going well with the brand. They even added an emoji that perfectly suits their product.
"We make healthy drinks. Please buy one so we don't get fired."
Considering the character limit, you need to be extra creative and even add a weird sense of humor to catch the attention of your visitors and even gain more followers.
"Just do it"
Although Nike recently changed their Twitter bio, this was the best representation of the brand and cleverly used sentence that describes it all. Once you have established a brand, you can work on clever lines like this one.
"Official Twitter account of the Toronto Zoo, an organization that protects wildlife and wild spaces. WARNING: may contain traces of cute."
This is one of the best examples of how a Twitter bio can work for your business. The message is clear, viewers know what the Twitter profile is about, and the added humor on the end only attracts the attention more.
"Apple CEO Auburn 🏀 🏈 Duke 🏀 National Parks 🏞️ "Life's most persistent and urgent question is, 'What are you doing for others?'" – MLK. he/him"
Personal profiles of professionals don't have to be boring. Take a look at this as one of the funny Twitter bio examples where the CEO is using all the emojis and added a logo that only renders on Apple devices.
"#Android is made for everyone. Follow along for the latest updates and stories behind our tech."
Here is a great example of using the right hashtag in the right position. The marketing team knows how to reach the target audience and the promotion looks effortlessly placed in.
"The most unimportant things you'll never need to know"
Twitter profiles of some companies show how catchy the bio needs to be on social media platforms like this one. So, when you create the perfect bio for your Twitter account, use common sense and add a touch of humor to it.
"I've designed some products you have used. I don't believe in shoelaces. All ice cream should be chunky. Being nice is free."
Here is another amazing Twitter bio that shows even the business people have a sense of humor and know how to use it. Professionals like to humbly brag about their achievements and invite the audience in with common interests.
Twitter Bio Template Ideas
If you need additional inspiration for your Twitter profile, here are a few more examples and templates that will gain you more followers:
Learning from the bad choices;
Professional procrastinator;
Passionate travel guru;
Look at me; God must have a bad sense of humor!
Too real to fill up this space!
Wake up with determination. Go to bed with satisfaction;
Maintain the fine lines between networking & wasting your time;
Fitness freak;
Wild side to an innocent face;
Social media fanatic.
Keep in mind that originality is the key and that you should add some kind of introduction. One of the most recent trends is adding your preferred pronoun and inviting your Twitter followers to follow a good cause.
Final Thoughts
Twitter is without a doubt one of the best social media platforms to stay informed, have fun, and even promote your business and ideas. Because there are so many amazing features on the platform, creators often forget that adding a Twitter bio is crucial for the growth of the profile.
This is a unique opportunity to use the tips and tricks we provided and compile a short and engaging Twitter bio. This will help you represent your business in the best way possible and let your followers know what your account is all about.
Don't forget to add links and keywords to make it easier for people to find you, and get creative with the 160 characters you have.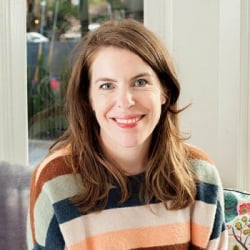 Latest posts by Maddie Schultz
(see all)