Twitter Moments has been available to the public on the social media platform since 2016. But not a lot of people are aware of this feature.
Of course, Twitter has been making Moments to feed its users for years. But it's now time to take advantage of this feature and use it for your personal or business purposes as well.
In this article, we will discuss these points:
What is a Twitter Moment
Ways you can use it
How to create a Moment
Important things you need to know
After reading this article, you will hopefully have learned something new that you can use to grow your business online and take a look at our other Twitter articles:
What Are Twitter Moments?
Moments are a group of curated Tweets that tell a story. The collection of Tweets can be from you and other users. They are collected and grouped together in a Moment to create, as its name suggests, a memorable moment.
Moments are categorized by topics. The range of topics that you will see on Twitter are:
Trending
News
Sports
Entertainment
Fun
They appear as a snippet with a cover image, title, and description. When you click on a Moment, it will expand to show the other Tweets included in the Moment.
You can click on each individual Tweet to like, read the comments, write a comment, or Retweet it. You can also report any Tweet included if you think it contains sensitive content.
If you love the Moment and would like more people to see it, you can share the Moment on your feed.
Ways You Could Use Twitter Moments
Twitter is filled with over 6,000 Tweets per second. That's about 500 million Tweets per day! Without any form of organization, the numbers are just overwhelming and Tweets can just get lost in the vast sea of Twitter.
Fortunately, Moments is here to help you organize Tweets that are related to each other. By grouping together Tweets about a single topic, content creators are able to form a cohesive story or picture regarding the topic.
Brands make use of Twitter Moments to grow their business. Here are the common topics they create Moments for:
Product promotion
For example, a company is launching a new video game. Before it is released into the market, they want to create hype.
To get people excited about the upcoming game, the brand may post Tweets containing video teasers and messages from the game developers.
The company can then collate all these promotional Tweets and then add some Tweets from thrilled fans who are looking forward to the game's release. This Moment can then be shared and promoted on Twitter for all the world to see.
The combination of the game promo Tweets and the fan Tweets create a picture of fun and excitement that will attract more interest in the game. The hype looks real with all the personal statements from fans and analysts.
Event Promotion
Let's say you have an event coming up and you will want to use Twitter to promote it. You want to attract an audience to sell tickets to or just to get viewers for your event.
To achieve this goal, you post a lot of Tweets regarding the event.
When you create a Moment, you can add Tweets that talk about what the event is about, Tweets from event participants who are also excited to be attending there, and Tweets from your followers who are looking forward to it.
But you also need to acknowledge and promote your event sponsors. So, you need to post their ads too.
By interlacing the sponsor advertisements in with the other Tweets in a Moment, you are creating a seamless interjection of their brand without being too loud or stealing the spotlight.
Year-end summary
People become loyal fans of brands that they feel like they personally know. Learning about the brand's humble beginnings and interesting history is what endears the brand to its customers.
As a business, offering a year-end summary to your followers is one way to get people to know your brand more.
Your year-end Moment will contain event highlights or milestones for the year. For example, you can add Tweets of new products you have launched, improvements you have made, and achievements you have received within the year.
You can also include Tweets from your co-workers and employees talking about their positive experiences with your company. Tweets from supportive customers are also a plus to your company image.
The Moment you create at the end of each year will summarize your growth and help you grow more in the coming year.
Special sneak peeks or behind-the-scenes
Everybody loves knowing secrets. Getting to know what happens behind the camera or the extensive preparation for an event is a big pull to audiences worldwide.
The candid shots, the funny retakes, and the inside jokes are usually what content creators offer as extra content to their donors. It gives people an inside look into the more personal side of the creators.
By creating a Moment filled with snippets of sneak peeks and behind-the-scenes photos and anecdotes, you are bound to attract people's interest and love.
You can also do this kind of Moment for upcoming events and product promotions. That's the good thing about Moments, they are so flexible and versatile. You can create as many Moments you want, and they all do the job of growing your audience and brand.
These are just some ways how brands are currently using Moments. Maybe you can think up some other interesting Moments for your brand that will fit your style.
Things You Should Know About Twitter Moments
Moments are made up of all public content. Anything that is shared with the public on Twitter can be included in any user's Moment. An author does not need to get approval for including another user's Tweet in his/her Moment.
You can constantly update and add Tweets to your Moment. Vary the content you include to make it more interesting for your audience.
If people love the Moment that you have created, they can follow it and even share it. This is your chance to get more mileage and grow your presence online.
You can monitor your Moment in Twitter Analytics. You will be able to see how many times it has been opened, how many users have seen your Moment, how many likes, and how many shares it has gotten.
How to Create a Twitter Moment?
Creating a Moment is very simple and easy. You can use any web browser, either on your computer or on a mobile device. It is more advisable though to use a desktop because it is faster to navigate on than the small screen of a mobile device.
On a web browser, log in to your Twitter account.
Click More on the menu to the left.
On the drop-down menu, choose Moments.
To start a Moment, click the lightning bolt icon with a plus sign.
On the right side of the screen, add a title and description to your Moment by clicking the Edit or pencil icon. The title has a limit of 160 characters, while the description can be as long as 600 characters. Hit the Save button when you're done.
You can now add Tweets to your Moment. Choose from Tweets that you've liked, Tweets from other accounts, from a Collection, or simply search Twitter for related Tweets.
Click the Publish button in the upper right corner of the screen.
Choose whether to make your Moment Private, Public, or Unlisted.
Private means only you, the creator, can see your Moment and you will not be able to view the Moment on your profile yet.
Publishing your Moment as Public means it will be available for anyone to see.
Posting it as Unlisted means only the people with the URL of your Moment will be able to see it.
How to add Tweets to Twitter Moments?
Whether you have an existing Moment that you would like to add more Tweets to or you're just creating a new Moment, here are the simple steps on how to add Tweets to your Moments.
Remember, you can only create, add, and edit Moments on Twitter.com. You can access it through a computer browser or a mobile device browser. The Twitter mobile app is only good for viewing Moments.
On a web browser, log in to your Twitter account.
Click More on the menu to the left on a computer. If using a mobile device browser, tap your profile picture on the upper left portion of the screen.
Select Moments from the next menu.
Click an existing Moment or create a new Moment.
Then click the pencil or Edit icon to add Tweets.
You can choose from Tweets that you've liked, Tweets from other accounts, from a Collection, or you can manually search Twitter for related Tweets to your topic. Simply click the Tweet to select it. The green checkmark indicates that it has been chosen.
When you have selected all the Tweets you want to include, hit the Add button at the top to save your selection.
Alternatively, on the preview screen to the right, you may click the plus icon on any part of the collection to add a Tweet. Simply copy the Tweet URL and paste the link in the pop-up box, and then click the Add button.
How to Make Memorable Moments?
To make your Moments more attractive, here are some steps you can do:
Click the camera icon to add a cover photo, video, or GIF that represents your Moment. You can pick an eye-catching cover photo from the Tweets you've added in the Moment or paste the Tweet URL of the media you want. Resize the image to fit as your main cover and thumbnail.
Write a catchy title and a good description to make your Moment stand out. If you notice, there are a lot of Moments out there that look a bit generic.
Vary the type of Tweets that you add to your Moment. Choose a combination of images, videos, GIFs, and texts with links to create powerful Moments.
Arrange the Tweets in your Moment in such a way that it looks more coherent, just like when you're telling a story. Put Tweets of the same type close together, like promotions, testimonials, and Tweets from participants. It is easier to digest Moments that have a good storyline.
FAQs
How can I add my Tweets to a Moment created by someone else?
There is no way for you to add your Tweets to a Moment owned by another user. However, you can DM (direct message) the author and ask for your post to be included. As long as your Tweet is public, you can send the author the Tweet link so he/she can add it to the Moment.
How can I remove my Tweet that was used in another person's Moment?
There is no remove button that you can immediately click to remove your Tweet from someone else's Moment. What you can do is to go to the author's profile and block the Twitter user. This will, in effect, also remove your Tweet from his/her Moment.
But, if you don't want to block the person, you can just send him/her a message and ask for your Tweet to be excluded from his/her Moment. There are people who are still kind and decent nowadays.
In Conclusion
Twitter Moments are a great way of telling a cohesive story using Tweets from various users coming from different angles. It's a fun and candid way of creating memorable moments for your brand and audience.Take advantage of this amazing feature to help your brand grow.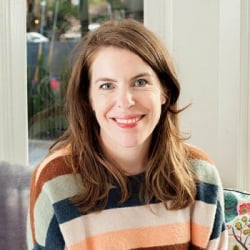 Latest posts by Maddie Schultz (see all)